A self proclaimed "people person," Munish has directed teams of more than 100 associates and brings over 15 years of diverse experience across operations, business development, client management, and project management to our team.
To say Munish's schedule can be hectic is an understatement. Munish and his family live in New Delhi, India, yet he and his wife, Shimpy Gaur who also works for us at RealEstateInvestor.com, maintain a work schedule in the United States Pacific time zone. With a 12½-hour time difference, they work well into the night when many Americans are just starting their day.
Munish, who has been with RealEstateInvestor.com since 2018, has over 15 years of diverse experience across operations, business development, client management, and project management. He credits his experiences in banking with Barclays Bank PLC & Projects with Ernst & Young as preparation for his role with RealEstateInvestor.com.
"What I learned all these years in past organizations and what I was provided… that was preparing me for this role." – Munish Gaur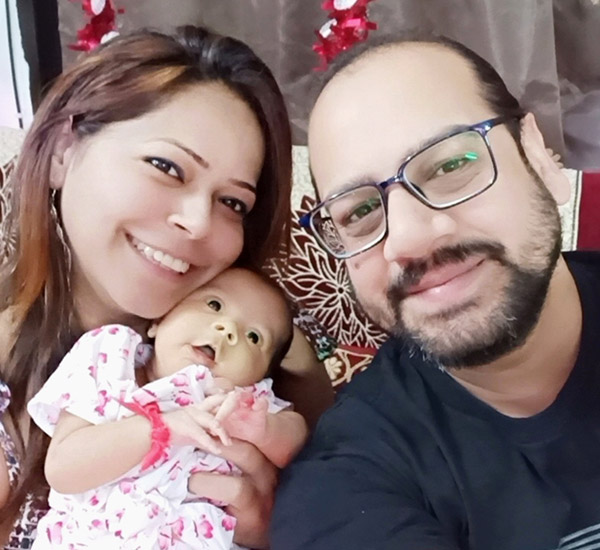 Munish also credits his wife with introducing him to RealEstateInvestor.com when a position opened that was the perfect fit for him. After several lengthy interviews, including an hour long interview with founder Gary Boomershine, the team agreed with Shimpy, Munish was a perfect fit.
An offer was made and the rest is history. 
Life Of A Team Member Working With RealEstateInvestor.com
Working with like-minded individuals is important to Munish who is just one member of the RealEstateInvestor.com team located in India. Though there is an office in New Delhi, Munish mostly works from home. It allows him to be more productive and has given him the flexibility to spend extra time with family, including his newborn daughter that he affectionately calls Cookie.
Being part of a team is critical, according to Munish who is responsible for escalation and client retention. He admits to spending considerable time each day on calls with his team. Munish feels it is important to connect with people. He's managed teams of up to 100 associates, so you could say he's a bit of a "people person."
Everybody has a story. – Munish Gaur shares about why he loves helping people. 
Teams composed of people with different backgrounds teach us many things. Everyone is different. They are different types of people with different cultures, and even different kinds of food. This diversity helps individuals learn and see other viewpoints. Munish finds this fascinating and part of why he loves working with our company.
There's a lot that one can learn from working in teams. Everyone comes from different backgrounds and diverse cultures. If we keep our ears and eyes open, we can actually learn and be a better self. – Munish Gaur shares about the importance of diversity in company culture.
What Munish Wishes Every Real Estate Investor Knew…
Relying on your RealEstateInvestor.com team to help you learn and grow your business is key. However, according to Munish, not all members take advantage of all of the tools offered.
Training is one of the things that Munish believes sets RealEstateInvestor.com apart from many of the other companies on the market today. This includes the free training we provide on our Real Estate Investor Facebook Page and through our REI Huddle Podcast.
With the ability to have free access to so many resources, including experts who are making 7-figures in real estate today, in this market, real estate entrepreneurs have the keys to growing faster, better, and smarter businesses easily accessible at their fingertips.
The Importance Of Attending Live Webinars and Training Events.
Munish is actually our behind the scenes guy on all of our live training webinars that we offer, so he sees the value being shared consistently during these events. He pointed out that while many of our free training webinars and Q&A's are recorded for convenience, nothing beats being on the webinar live.
This is something he's very passionate about, especially when it comes to our Members Only training events. These are recorded and always uploaded inside our members' portals, but he feels like real estate entrepreneurs should utilize the live training sessions much more often than they do.
People have paid for this program and they should be attending the live session and asking live questions to get the most out of it… Though they can listen to a recording later in many cases, nothing beats the live sessions. – Munish Gaur
Entrepreneurs Can Benefit From Their Peers.
Besides being able to ask questions to experts during our live calls and webinars, members have an opportunity to share their experiences with the team and learn from other members' stories, too. The more members actively participating, the more fruitful for all parties. Think Mastermind or Meetup Groups, but on an even more close knit level. There's so much that we can learn from our peers around the nation who are using the same tools and services to find success in their businesses.
Not only are performance or tech coaches there to teach, they are there to share situations… I could share something or the person that actually lived that situation, could… and help each other. That's how it should work. That they help each other. The more people we have, the merrier.– Munish Gaur
Munish stressed the importance of learning from one another's experiences and would like to see members make the most out of the program, and the many benefits we have to offer real estate investors and agents.
Curiosity and Wonder Are Top Tier Strengths We Look For In Our Team Members.
Munish was exposed to all kinds of processes during his career, from development of technology as part of IT teams to how people used the software created. He did rigorous testing on platforms and enjoyed seeing how backend coding done in one corner of the world could handle worldwide transactions.
His experience opened positions and projects where he worked directly with various levels of management and executive personnel.
You can talk to anybody if you know what you need to ask. – Munish Gaur
Don't be afraid to ask questions.
Munish admits to being as curious as a child and asking many questions throughout his entire life. As a project manager, he spoke with executive level managers regularly. It gave him a solid foundation to ask questions regardless of who he was talking to.
I asked the right questions at the right time. It's a habit. It doesn't matter who you are sitting with… CEO or an agent, if you need to ask questions, you should. – Munish Gaur shared.
Munish is a great example of having curiosity and wonder, two of the values we very much look for when it comes to seeking members to join our innovative team at RealEstateInvestor.com.
The Importance Of Service And Having A Willingness To Help.
This holds true with RealEstateInvestor.com as well. Members are encouraged to ask questions, to explore, and to learn.
To Munish, it doesn't matter who you are speaking with. What matters is that you understand the individual's situation and help as best as you can. That's what RealEstateInvestor.com is all about. Helping each other find success faster and easier.
We need to understand what their situation is and then help them as best we can. That's our motto and is the kind of value our CEO's have clearly demonstrated for this organization. – Munish Gaur
The Value of Learning From Other Cultures And Building Lifelong Experiences.
While Munish has a master's degree in Human Resources, he credits his life experiences as further expanding his education.
Munish claims that having had the opportunity to interact with people from different backgrounds in the United States, United Kingdom, South Africa, and Australia, has also brought learning experiences. He credits a year long trip to England when he was 25 years old as being an eye-opener.
I thought I had doubled my 25 years of life experience with the kind of exposure I got (during that one year in the U.K.)… If you just observe, you see… how people live in a different country or even different city… It's interesting how people think differently in different countries. – Munish Gaur shared excitedly and earnestly when talking about learning from different people and cultures. 
A Culture Of Fun and Family.
Two values we care about at RealEstateInvestor.com is having fun and prioritizing family and friends. We want this not only for our team members, but for our members too. That's why we're always looking for ways to streamline processes and take more of the little jobs off real estate entrepreneurs plates. That way they can do less work and spend more time enjoying life.
We asked Munish about his life in New Delhi and what he enjoyed doing for fun…
When not working, Munish and his wife enjoy traveling and trying new cuisines. So far, his favorite place is England. He found Edinburgh to be peaceful and green and he loved the culture and history he found there.
Munish and his wife celebrated a new year in a new country for the past several years until recently when his wife was expecting. Munish and his wife, Shimpy, welcomed a daughter earlier this year, a month sooner than originally expected.
A couple weeks after his daughter's birth, the Covid-19 pandemic happened, and their city was put on lockdown. He feels grateful to have had his daughter a month early to where his family was able to see her before the lockdown began.
Everything happens for a reason. That's the kind of faith I believe in. – Munish Gaur shares about the birth of his daughter during an unprecedented time for the entire world. 
Even after spending more than 100 days in his home with his wife and newborn baby girl, Munish says he feels loved and blessed. Everything worked out. They were fortunate to enjoy family time with their newborn who they named Aadriti, which means ray of light.
Everything has fallen in the right place at the right time. We were lucky to have her at the right time. – Munish Gaur shares again. 
Munish is a doting father and husband, and he's looking forward to traveling again soon, and this time sharing those experiences with his daughter, as well.
What's Munish's Favorite Thing About Working At RealEstateInvestor.com? (Besides Working With His Wife!)
Without hesitation, Munish told us he loves the culture and the people at RealEstateInvestor.com who are now more like an extended family. With only 24 hours in a day and 8 of them asleep, on average, Munish indicated he spends more time with coworkers like most people in careers do.
(You) interact with them much more than you actually do with your family. They become your second family. – Munish Gaur shares.
One of Munish's favorite experiences was when our founder Gary Boomershine and our CFO Wayne Jarrett visited the team in India and went on many adventures together. He's looking forward to the next trip and is grateful to be part of a community that values all of their talented team members across the world.
Being part of a global community with RealEstateInvestor.com.
Munish said that nothing beats interacting with your team and sharing experiences to understand where they are coming from. While the lingo may change, you are not just sharing words, you are also sharing emotions.
Love the people you work with and it will be fun! – Munish Gaur
Munish… we couldn't agree more! We're grateful to have such an amazing team in India, and an awesome team member like Munish… And of course his wife Shimpy too! (Her story will be coming soon!)