Having taught special education in middle school for more than 11 years, Shawn Kostoff decided to pursue real estate investing part time in 2015 after reading Rich Dad Poor Dad.
Being an entrepreneur was not new to Shawn Kostoff who tells us he grew up with a father who was an entrepreneur. Having seen the ups and downs that he went through as a business owner, Shawn decided to seek a more consistent line of work. So he earned a degree in education, and has been a Special Education Teacher ever since.
While Shawn loved teaching very much, he recognized that education wouldn't provide the financial independence he desired.
In 2015, Shawn began real estate investing after reading Rich Dad, Poor Dad by Robert Kiyosaki and Sharon Lechter. After that, he took a few classes, did some marketing, and dove into wholesaling part-time.
Business was slow to say the least, and Shawn admits that he wasn't consistently dedicating money to marketing, which made investing opportunities sporadic at best. But, after months of trying to learn and practice wholesale real estate investing, Shawn found his first seller. He told us the home was a "rundown house on a dead-end street."
After that, he was on the hunt for a buyer…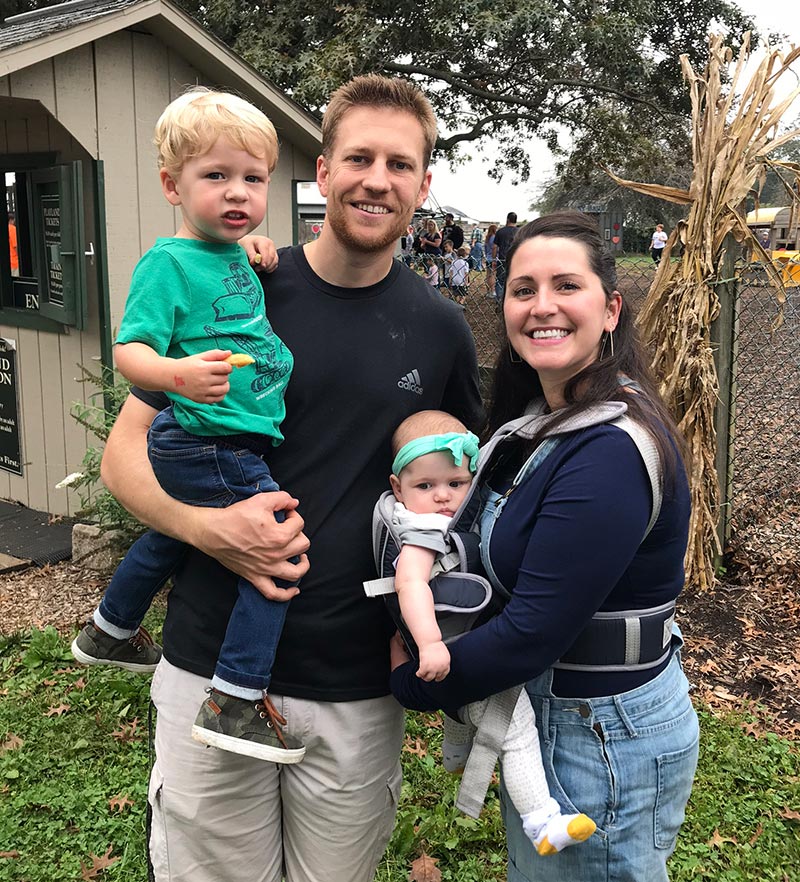 Shawn made a few calls, participated in meetups, and networked in order to find connections with buyers who might be interested in fixer upper properties. However, funny enough, he ended up locating a buyer on the basketball court — a friend he would shoot hoops with. 
After closing on that first deal and making $10,000, Shawn was on his way and determined to keep going after this new dream of his.
That set me on the path. I realized 'it works.' I just needed to figure out a way to make it work for me. Shawn shared when talking about how he was successful at closing his first wholesale real estate deal while still working his full-time teaching job.
But, life has a way of interrupting well-made plans…
If anything, this year has taught us all that life has a way of mixing things up. 
For Shawn, this meant postponing his real estate investing career… For good reasons of course. 
In 2016, Shawn married his wife who's also a teacher. From there they had many "firsts" together. They then moved to Delaware, where both of them took new teaching positions at a charter school. They even bought their first house together— a 'fixer-upper' that he and his wife renovated to make their home. And to top everything off, they welcomed their first child together in 2017, a son. 
When Business "Sputters Along." 
Even though real estate investing wasn't his priority at the time, it was always top of mind for Shawn. 
Once all of the new changes settled down some, Shawn said things fired up again later that year. Even though he was still teaching, he still found time and ways to locate properties and buyers. He placed ads, made cold calls, and kept lists. He sent out a few mailings when he had extra money, and managed to set up 2 deals that he closed in the early part of 2018. 
Despite the new deals, as Shawn put it, he "sputtered along" in his business. He didn't have a strategy for marketing or follow-up, and without consistency, his results were low.
Around that same time, Shawn heard of RealEstateInvestor.com. He let us know during his interview that he kept his eye on us while trying to pursue investing on his own throughout the latter part of 2018.
After learning more about us at an event, and talking to our team, Shawn felt fairly confident that Realestateinvestor.com held the potential answer to his issue with consistency in his business. He also saw how our Managed Services would allow him to have the time freedom he desired and needed as a full-time teacher, a new husband, and a new dad. 
After mapping out how much our Managed Services would cost, the marketing budget he'd need to invest to get the leads to pay for it, and estimating the ROI he could achieve if sellers were screened and sent ready to book an appointment with him, Shawn was convinced that he needed to give us a shot. So he made a plan to sign on with us after he closed his next deal…
The Difference "Done For You" Makes…
Shawn's "next deal" was a longer sales process than usual, taking one year from the initial conversation with the buyer to the point he was finally ready to sell. And soon after Shawn closed that deal, he became a Managed Services Member with us at RealEstateInvestor.com. 
Shawn shared with us that joining RealEstateInvestor.com in the middle of 2018 was one of the best decisions he ever made. Suddenly he had leads coming in and all he had to do was make the calls and close the deals. 
Having "done for you" services was a game changer for Shawn. No longer did he have to worry about marketing, finding sellers, cold-calling, inbound call answering, talking to tire kickers, getting hung up on, the list of benefits goes on…
I had the leads coming in. I had everything I needed. It was a matter of doing it at that point. And since my money was on the line every month, I had that built in accountability of consistently talking to sellers and closing deals to pay for it. And of course, making a profit was great. – Shawn shares in regards to our Managed Services Membership. 
Shawn admits that he never felt successful closing just one deal a year when he was doing the marketing and everything else on his own. But, ever since he came onboard with us, he's been closing one deal per month! He even kept this pace during the close down earlier in 2020 due to Covid. 
Let's See The Numbers!
We asked Shawn for a breakdown of what his deals looked like prior to joining our Managed Services. The numbers speak for themselves.
2014- Read Rich Dad, Poor Dad and started driving for dollars. (No Deals)
2015- Closed his first deal in the Spring and made $10,000. (2 Deals)
2016- The year of his first — lots of life changes. (No Deals) 
2017- Fired business back up mid year, set up deals for 2018. (No Deals)
2018- Closed two deals early, and started working with a seller on a deal. (2 Deals)
January 2019 to June 2019- Closed that carry over deal. (1 Deal) 
June 2019- Shawn used that deal assignment fee to sign up with our Managed Services.
July 2019- December 2019- Closed 8 deals Using our Managed Services! (8 deals!) 
2020- Shawn has averaged at least 1 deal a month even during the pandemic. (Estimated to close 12 deals by year end, including 1 rental and 1 seller financed deal.) 
You have to want it. – Shawn Kostoff shares about real estate.
What sets Shawn apart from many other people who decided to try real estate investing is that he has the drive and dedication to make wholesaling a success. These are two things that are consistent key success indicators that we see in our members, as well as others outside of our services in the industry.
Here's what Shawn shared about this:
Everyone says they want to be their own boss, but then when it happens, you're the only one holding yourself accountable. 
And according to Shawn, you don't need a fancy title or even a website to be a real estate investor. It simply comes down to doing the work. 
Shawn Weighs In On His Predictions Of The Future Market…
Shawn and his wife live in Delaware, where the market is still going strong. According to him, properties in need of fixing up are going quickly once they hit the market, where they frequently have multiple offers. 
The market here is still super-hot. There's a low supply of properties right now, and a high demand for them.  Shawn shares in regards to what he's seeing in the market right now during the late summer months in Delaware.
Shawn recognizes that the market could change quickly especially for people who are currently taking advantage of unemployment benefits. Once that runs out, Shawn predicts there could be an oversupply of properties as people begin selling their homes. 
Today, however, that's not the situation. 
Does Shawn have plans to pivot his strategy as the market changes?
The short answer is "yes." 
Shawn tells us he will continue wholesaling and will consider 'buy and hold' properties as the market shifts. He also told us he has a network of private investors and will look at creative financing options as well. 
We are playing out several scenarios… trying to decide if it makes sense to buy cheap and rent, or continue wholesaling. I'll steer away from fix and flip properties. I'm more of a fast nickel or slow dime investor. – Shawn Kostoff shares his investment strategy as the market changes. 
What Does Shawn Love About Our Managed Services?
We asked Shawn what's his favorite thing about our services. 
Emphatically, Shawn said,"it works." 
Your Managed Services have been a saving grace for my business. – Shawn Kostoff shares on having RealEstateInvestor.com support. 
Having done all the legwork himself in the past, Shawn has an appreciation for the behind the scenes tasks that our team does to get the real leads into investor hands. 
Without having to worry about direct mailings or software, Shawn can focus on talking to sellers and finding more deals to close. 
I love how hands off the day-to-day aspect of it is. I don't have to worry about the backend stuff or about pulling lists. I don't have to worry about mailing postcards or letters. I don't have to worry about technology or the software part of it. RealEstateInvestor.com's Managed Services allows me to do the important stuff… The stuff that I actually want to do. I want to talk to the sellers and close deals. That was the biggest thing holding me back before. Now it's game on. – Real Estate Investor Shawn Kostoff shares.
The RealEstateInvestor.com Difference And Advice From Shawn.
While Shawn recommends new investors jump in and become Managed Service Members since he knows it works, he also cautions investors to be prepared to do the work. Here's what he says: 
It's not an easy, get-rich-quick thing. People aren't throwing their houses at you at huge discounts. But it's not complicated, either. If you follow the steps, do the work, and are consistent, you'll have success.
Shawn noted how he had gone into the membership thinking he would only talk to our team leaders about how his business was doing once every few months here at RealEstateInvestor.com. 
But, that isn't the way we do things. After all, we only have success if our members succeed. 
Shawn tells us that RealEstateInvestor.com really over delivered, boasting how he talks to his team lead more frequently than once a quarter for account reviews. In fact, they jump on calls, review numbers, and he gets the answers he needs as often as he needs. 
Our Member Success Directors are real estate investors themselves, and they're always willing to give advice, tips, and they're ready to share what's working in other areas around the country. If they don't have an answer, they keep going until they find it. 
Ultimately, everyone on our team truly cares about helping our members succeed. 
This sometimes even means turning down prospective members if they're misinformed about what we offer, or if we can see that they won't succeed with us. Typically this is if someone is looking for easy money, and not willing to put in the work. 
We don't offer any false illusions or get rich quick schemes here. After all, the last thing we want is to have someone sign on as a member, close zero deals while using our services because they aren't working them, waste their money, and then be mad at us. We're very honest and forthright when it comes to that, and those are some of the many things that Shawn appreciates about our services. 
They really care. I'm super happy with the services. – Shawn shared when closing our interview call. 
Finding Financial Independence Is In Shawn's Future.
When Shawn's not teaching or working on his real estate business he loves playing outdoors with his two children and spending time with his wife. 
What does the future look like for Shawn and his young family? 
Shawn and his wife, who are both teachers with a growing young family have a goal to be financially independent. If Shawn can maintain one deal per month, they think they can reach their goal in the next few years. 
Next year, Shawn says he expects to double his marketing budget and double his profits as well. This goal if hit would allow him to become a full-time real estate investor. From there, the sky's the limit for Shawn and his family! And, with two children and a third child on the way, Shawn hopes to spend more time with his family, which looks very feasible at this point. 
Shawn's Future Is Bright, We Think Yours Will Be Too!
We want to thank Shawn for allowing us to put him in the spotlight this month. We have no doubt that he'll reach his goal of financial independence and we plan to help him reach that goal of becoming a full-time real estate investor sooner rather than later. 
If you're interested in learning more about our products and services that can grow with you as your real estate business grows, we would love to start the conversation. We invite you to click on the bright green "Get Started" button at the top right corner here on our website. This will prompt us to set up a meeting with you and one of our member success team members can help you determine if our products or services are a good fit for helping you grow your business.