Shimpy Gaur is part of our global team based in New Delhi, India, where she's held multiple roles over her six year tenure with us. Today she's our lead admin in our finance and operations department where she assists our members with all of their billing needs. She brings with her more than fifteen years of diverse experience in operations, customer service, account management, and quality monitoring, making her a valuable part of our team. 
Our team and our many members know Shimpy (who also goes by her nickname Sara) as a person who radiates positivity, helpfulness, and is friendly to everyone she gets the opportunity to interact with. One of the things she loves about working on our team is that she gets to work with many different people, including her husband Munish, whom she referred to us two years ago, helping us expand our global family, quite literally.
One of Shimpy's other favorite things about working at RealEstateInvestor.com is that it affords her the opportunity to take on new roles and learn things that she might not otherwise get to learn if she didn't work for a global company. Every day is different here and that's exactly what she loves about it.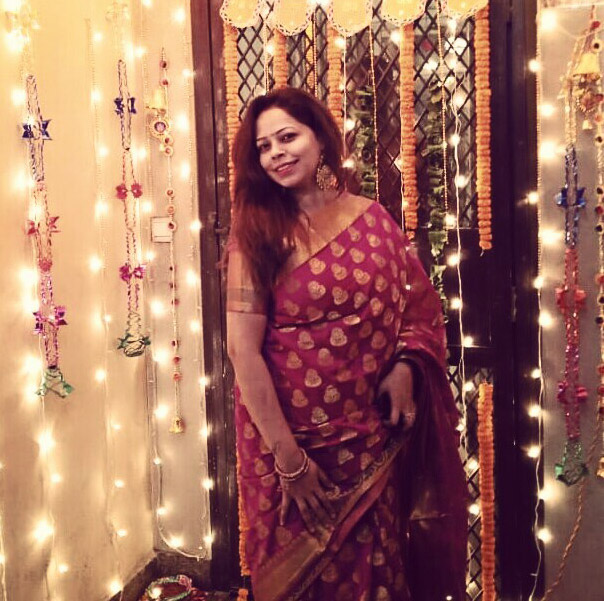 I love doing this job. It has never become monotonous for me. – Shimpy shares.
While we do have an office in New Delhi, India where Shimpy lives, her position allows her to work remotely from home like many people are doing this year. And with a 12½-hour time difference to the United States Pacific time zone, Shimpy often works well into the evening making working from home a huge workplace perk for her.
Learning More About Shimpy Gaur…
As a child, Shimpy wanted to be a doctor when she grew up because she wanted to help people, but as she progressed further along in her studies she ended up falling in love with numbers. 
Opting to study accounting instead of science, Shimpy has been doing what she loves, helping people, and more specifically, RealEstateInvestor.com members. 
I love helping people. I love talking to them. – She shares.
We asked Shimpy where she sees herself in five years and she shared that she sees herself working and growing with our company. With a genuine desire to grow her skillset and her career, she's eager to take on more responsibilities as she continues to learn and grow in her career at RealEstateInvestor.com. 
Since many of our team members are real estate investors themselves, we asked Shimpy if she's had the opportunity to learn real estate investing and if she plans to utilize that knowledge in the New Delhi marketplace where she lives. 
Shimpy let us know that there are a lot of differences between the U.S. Market and the market in India, but she's still taking advantage of all she's learning about real estate. Here's what she shared on that:
Everything I've learned about real estate I learned from working at RealEstateInvestor.com and with our members. The training and what y'all do for members is unlike what we have here in our market. I feel like it's definitely given me the opportunity to learn a skill set I wouldn't have gotten elsewhere. I hope that one day Munish and I will be able to build some investments here in the future as well.
Sometimes getting involved in family business pays off…
Family is a big part of our "Why" behind what we do at RealEstateInvestor.com, and to Shimpy it's equally as important. That's why working beside her husband Munish Gaur, our Member Success Director, was a special opportunity for this couple. 
While Shimpy and Munish have been REI colleagues for two years since he onboarded with us, they're not new to working at the same company together. In fact, that's exactly how they met 13+ years ago when they worked together for a different company. Riding in the same carpool and working together gave them time to build a friendship and as Shimpy put it, they were quite "impressed with each other." 
How did this couple end up dating you might ask? 
Well, that's a funny story…
Shimpy had mentioned Munish a few times around her family throughout the course of them working together. Enough so that her mom decided the two would need a bit of a push… 
With a desire to see her daughter happy and settled down, Shimpy's mother, and personal matchmaker so it seems, secretly searched Shimpy's phone contacts to get Munish's phone number unbeknownst to Shimpy. Her mom later contacted Munish to make a behind the scenes introduction, and the rest became history.
Shimpy shared that she should have known something was going on with the strange question Munish asked her one day when carpooling to work while they were still "just friends" and co-workers.
Munish had asked her if he should get her mother a gift if they ever met in person. This of course confused Shimpy briefly, but Munish quickly realized what he let slip and swiftly changed the subject. 
It wasn't until later that Shimpy learned about her mother intervening. Turns out, her mom had spoken to Munish multiple times and the family had even met with him and interviewed him well before Munish even asked Shimpy on their first date! 
The interview went well of course! 
More in love with each other today than when they first got married thirteen years ago, both Munish and Shimpy are grateful for her mother's secret matchmaking.
Everything happens for a good reason.  Shimpy shares the exact same sentiment that her husband shared with us during his team spotlight interview.
Shimpy considers herself fortunate to have found a partner with similar interests as hers and one her family adores. She jokes how her family might even love Munish more than they love her. (We doubt that!)
Becoming new parents on the brink of a major pandemic…
During our interview Shimpy shared about becoming a new mom on the brink of a major pandemic. 
Going back to her belief that everything happens for a good reason, Shimpy went into labor with her daughter a month early, which also happened to be a month before New Delhi issued COVID-19 Stay At Home orders. 
While delivering a baby early was a little scary and quite a big surprise, she was grateful that her family got to meet her daughter, whom they affectionately call Cookie, at the hospital before the lockdown began. 
What does Shimpy like to do in her spare time?
Shimpy, who has an energetic personality, loves to travel and is grateful Munish loves it as much as she does. She joked that they would not have lasted together if he did not. 
For Shimpy, travel is also about learning the culture.
We love, love, love to travel! We don't go on a vacation and rush it. We can't cover a new city or state in a short amount of time, so we stay there for a month or several weeks at a time. That's one of the best things about both being able to work remote from anywhere in the world. – Shimpy says. 
When traveling, Shimpy says her laptop is always nearby. They prefer to spend a few weeks at a destination spot when they travel, opting to rent an Airbnb from other real estate investors around the world. This gives them the opportunity to truly experience the culture and enjoy their destination as well as keep on top of their work.
Shrimpy's favorite destination is Macau, which is considered the Las Vegas of Asia. She admits that both she and Munish enjoy gambling and playing the slot machines, so when they travel to Macau they barely use their hotel room, opting to spend as much time in the casinos as they can. 
Fortunately, lady luck is on their side because Shimpy and Munish have yet to walk away from a casino in the red, something that doesn't happen much here in the states. With winnings every time, it's no wonder this lucky couple loves to hit the casinos! 
Besides traveling, Shimpy loves spending time with her family. With so many of their extended family members living nearby, celebrating holidays and special occasions together often turns into great celebrations that can last for days at times. From weddings that span across multiple days, to holidays and celebrations that draw captivated crowds from all over the world, Shimpy said that people know how to celebrate life in India. 
Speaking of celebrations, Shimpy shared with us about the Raksha Bandhan celebration that took place a few weeks ago, a celebration that celebrates the bond of family, and the bond between brother and sister. During the festivities, the sisters in the family tie a band around their brother's wrist, and the brother takes an oath to always support her whenever she's in need. 
This year marked Shimpy and Munish's first celebration of this festival with their daughter Cookie. While they're saddened that they didn't get to experience the festival in it's normal liveliness due to the coronavirus restrictions, their family still made the most of it. They even ordered a special traditional Indian dress and a tiara for Cookie to wear during their family celebration. They all looked quite stunning! 
"Dream is not that which you see while sleeping, it is something that does not let you sleep." —Dr. APJ Abdul Kalam (The 11th President of India) 
We'll close this spotlight article by sharing Shimpy's favorite quote. This is a quote that Shimpy said she has followed in her day to day life consistently since 2010. Here's what this daily mantra that Shimpy lives by means to her personally. 
"This mantra speaks to me as I read it as having a goal in life that drives you towards achieving something meaningful. Something that makes an impact. I am passionate about my work and having a life where I am valued for what I do, while also having a wonderful life with my family at home. I have this on the top of my head all the time as it's a mantra and goal that keeps driving me forward. I have literally followed this in my day to day life since 2010." 
Thank you Shimpy! 
Thank you Shimpy for taking the time to open up and allowing us to spotlight you as one of our valuable tenured team members. We're fortunate to have you as part of our team!