The Advantage Of Investing In Real Estate Young
Have you ever looked back at your real estate career and wondered what your business would look like today if you had started investing in real estate at a young age? For those of us who got a later start in this business, hindsight is 20/20…
However, if you're in your twenties, getting started today in real estate investing can afford you the life you want 5, 10, 15 years down the road from now. After all, there's no "perfect age" to start investing in real estate. You can even start investing in real estate the moment you turn 18-years old and can legally sign contracts.
With so many young adults facing the looming toll of their sky high student debt and while unemployment rates are on the rise, now is the perfect time to start spreading your entrepreneurial wings. If you're looking for creative business opportunities, Real Estate Investing should definitely be on your list.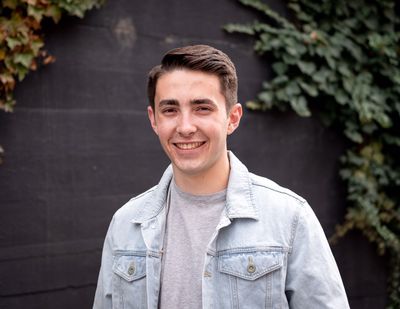 How do you know if you're ready to start investing in real estate?
While we think that now's the perfect time to start your real estate investment business, no matter what your age is today, there's still a lot of factors to consider before taking that leap. These include being financially responsible, self-motivated, driven, and a good self-learner, among many other things.
To get an inside perspective on what it's like to build a real estate investment career young, we interviewed our youngest Managed Service Member at RealEstateInvestor.com, Justin James Sherfey, Real Estate Investor and CEO of Pacific Solutions Northwest.
Justin James Sherfey is a 21-year old real estate investor and musician from Spokane, Washington.
Justin made his first real estate deal straight out of high school when he built a spec house with his dad to learn the ropes and sold it for a return on his investment.
Today, Justin's one of our youngest real estate investors at RealEstateInvestor.com, having become a member at just 20-years old. An age that's so impressive that our founder Gary Boomershine even interviewed him live about his journey. You can watch the full interview here.
In this article, we'll be sharing about how he got started building his business by using our Managed Services to launch his company.
How Justin learned about us.
Before coming onboard with us, Justin did his homework. He was new to investing in real estate, but he had been soaking up knowledge about the industry for years by listening to podcasts—including our RealEstateInvestor.com Huddle Podcast—reading books, and seeking out mentors in the industry who were further along than him.
Because of his research, Justin knew he wanted to focus on wholesaling since it had a low barrier to entry. He also wanted to utilize direct mail to reach out to sellers since most of the competitors in his market were only utilizing cold calling. Both of which made our Managed Services a great fit for Justin.
Here are a few of the things that drew Justin to Our RealEstateInvestor.com Managed Service:
We're a one-stop solution provider with all of the systems, services, and resources that real estate investors like Justin need to fast track their business.
We handle the marketing for him. All Justin has to do is provide a budget and zip codes and we handle the rest, including direct mailing at industry low pricing.
Our sales ninjas work his lists for him, handling all inbound and outbound sales calls. They screen all of the calls and only send Justin the highly motivated sellers who are ready to make an appointment.
We help him build a sustainable pipeline of qualified sellers who plan to sell in the next 12 months.
By leveraging our team who handles all of the $10 per hour tasks for him, Justin can focus on CEO level tasks like closing more deals, learning and growing his business faster than if he tried to do it all alone.
Justin also really liked that he would be able to reach out to our team of successful real estate investors to ask for advice whenever he needed it.
"I liked that RealEstateInvestor.com is run by real estate investors who are working in this business and finding great success. I was also drawn to the fact that it would provide me with a foundation to build my business on, instead of having to bootstrap it all. And it comes built-in with a solid support system where if I have questions, I can go to them and ask." —Justin James Sherfey of Pacific Solutions Northwest
Breaking the mold and defying age norms…
While RealEstateIvestor.com has solutions for real estate investors at any stage of the game from beginner through to expert, our Managed Services Members are most often seasoned real estate entrepreneurs with a few deals under their belt at a minimum.
In fact, on our Managed Services Page we share some guidelines on who's a good fit for this program and who's not. According to the direct quote below from our website, Justin breaks the typical mold for sure. In fact, he might even be the catalyst for us adding in the last sentence…
If you are brand new to real estate investing, have never done a deal and don't actively market for motivated sellers now, we may not be a good fit because the key to getting a good return on investment is the confidence you have to close appointments with motivated sellers. If you lack experience but have confidence you can close deals, feel free to apply and we'll see if it's right for you. (From the RealEstateInvestor.com Website.)
While we have our REIgnyte Platform that can grow with you from day one of opening your business through to becoming a 7-figure CEO, our Managed Service Membership does have a simple application and zero-pressure interview process involved to make sure a candidate is the right fit.
You can read more about who's a good fit for our Managed Service and who might want to focus on our products here.
On paper, Justin wasn't an instant fit. But, thankfully this isn't a one-size-fits-all type of business…
During his interview with our Senior Director Of Success, Mrs. Julia Jordan, Justin's confidence, determination, and grit were evident. Julia was extremely impressed by his thoroughly thought out business goals and the measures he had taken already to start getting himself into that CEO mindset. So much so that she jokingly asked Justin, "You're not 20 are you?"
To which, Justin neither denied nor confirmed that question and simply responded, "Well, I'm in my 20's…"
When it really matters…
We asked Justin during our interview if there were any hurdles he had to jump over before joining our Managed Services. He shared with us that the upfront investment was a hurdle for him, but he also shared this insightful piece of wisdom:
"Yes, it's an investment, but if it wasn't a significant monetary commitment I wouldn't have cared as much. This pushed me to care and make things happen. At the end of the day if you want it, having the right resources and getting with the right people can get you where you want to go. You have to have grit and you have to be fearless if you want to do great things." —Justin James Sherfey
Let's look at how Justin's business has grown since becoming a Managed Service Member:
Justin became a RealEstateInvestor.com Managed Service Member in June 2019. When Justin joined us he had not closed any solo real estate investment deals other than the one he closed with his dad. He also did not have a pipeline of leads he was working on yet.
June and July were all about learning and onboarding.
During his first two months with us, Justin did a lot of learning. He learned how to talk to sellers, how to have sales conversations, how to overcome objections, and how to answer seller's questions.
He also learned how our system works, how to work his pipeline, and how to make offers. While Justin was learning, our team was busy working on getting his lists up and running, launching his direct mailing campaigns, and building his pipeline from scratch.
In August, Justin got his first and second deals!
Justin got his first real estate investment deal in early August on a Tuesday, AND he got a second deal the following day on a Wednesday!
With these being his first solo deals, Justin didn't hesitate to ask for a lot of advice to make sure he was doing things right and to find the best ways to make the deals happen. Later that month he closed on both of those wholesale deals and brought in some nice revenue to boot.
Now he's making 1-2 deals a month on average and has at least 20 solid future sellers in his pipeline.
Since becoming a Managed Service Member with us, Justin has grown from being a completely brand new novice real estate investor with no solo deals in his career, to becoming a young real estate investor who's closing on average 1-2 deals a month when he's in full swing! He's also got at least 20 solid future seller leads in his pipeline.
That's just the tip of the iceberg! Justin's headed towards closing at minimum of 3-4 deals per month.
Justin was recently challenged by our RealEstateInvestor.com coaches to make at least one offer a day, and to shoot for a bare minimum goal of closing 3-4 deals per month. This goal is just the tip of the iceberg for Justin. With how determined he is and how far he's grown in the short time he's been actively investing in real estate, the sky's the limit for this young entrepreneur.
What does this look like financially for this 21-year old real estate investor?
Prior to becoming a fulltime real estate investor, Justin was making money through his music part-time. In his best year doing music, he brought in around $50,000 for the year.
In his first 11 months of investing in real estate using our RealEstateInvestor.com Managed Services, he's already exceeded that revenue! And he plans to triple that income over the next 12 months!
He's also looking to purchase a multi-family deal in the next year with at least 12 rental doors, and he's wanting to partner with other investors on more deals this year so he can learn from them.
How does this young entrepreneur push himself to get after it?
When we asked Justin how he pushed himself to actively pursue his dream and to take massive action at such a young age, here's what he shared:
"I feel like everyone has the urge to just sit around and be an ogre all day, no matter what their age is. But I think it was about creating structure for me. I have to have that structure for my daily, weekly, and monthly goals. I'm looking at how I can build the lifestyle I desire. I want to exit my business and experience life. So I focus on building the business that will afford me the lifestyle I desire 5, 10, 15 years from now." —Justin James Sherfey
Would Justin James Sherfey refer RealEstateInvestor.com To Other Real Estate Entrepreneurs?
Yes! He's already been a guest star on our live Q&A on Real Estate Investor Beacon, our free Facebook group for real estate entrepreneurs. Where he openly expresses his appreciation for our services as he shares his growth journey. This video is filled with lots of great wisdom from both Justin and our founders. It's worth a quick watch.
In closing, we'll share a final quote from our interview with Justin about why real estate entrepreneurs should consider becoming a RealEstateInvestor.com member.
"If you're looking to get on realestateinvestor.com you'll be getting education from the nation's best, some of the best influencers who are actually working in the business. You have access to them through REIbeacon and the opportunity to build a solid platform for your business is here. They're reachable, they're connectable, they're not "a celebrity." You can reach out and have a conversation with them. RealEstateInvestor.com has helped me get all of my deals." —Justin James Sherfey
Thank you Justin for being an amazing Managed Service Member. We're so grateful to be a part of your journey and can't wait to help you grow to new heights this year!