As the founder of RealEstateInvestor.com, Gary Boomershine is on a mission to revolutionize the real estate industry and reinvent how real estate entrepreneurs do business today. As an innovative problem solver and industry leader, Gary is passionate about providing unique solutions to industry challenges that hold real estate entrepreneurs back from scaling their businesses and finding financial freedom.
"I have a personal passion for working with real estate entrepreneurs to help them become financially free in their business and in their personal life by using real estate as the vehicle." —Gary Boomershine shares.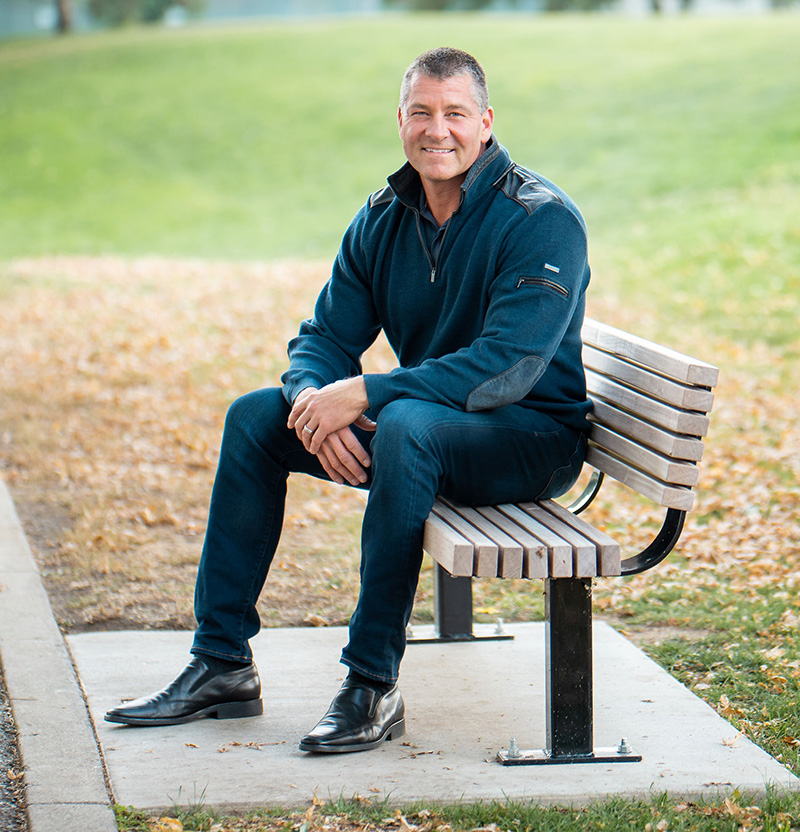 A Family Legacy In Business
Considered a 'surprise baby' born to his parents who were in their late thirties, Gary was the youngest of four children. He was born and raised in the San Francisco Bay Area, California, and comes from a long line of successful entrepreneurs. With a goal of being able to have more time to spend with his four children, Gary's father made the hard decision to close the family printing and manufacturing business a year after Gary was born. Since his father already had strong relationship building skills, he decided to try his hand in real estate and quickly found that he had a knack for it. This was the early beginning of Boomershine Realtors. While Gary was growing up he watched many of his siblings get their real estate licenses straight out of high school so they could take their place in the family business. With more of an interest in adventuring, playing video games, playing soccer and causing trouble, Gary didn't see himself being a real estate agent holding open houses. He was more interested in building software solutions and inventing stuff. An interest that would be soon tabled and put on pause when Gary was just 14-years old.
An Early Lesson in Perseverance and Faith
Gary can still remember the day he found out his father had cancer. He came home from what was a typical day in the 8th grade for him, only to sense that something wasn't quite right. A family meeting later that evening with all of his siblings present confirmed those feelings. That's when he found out his father had an advanced stage of Leukemia.
"While I couldn't fully comprehend everything at the time, I knew it wasn't good. Cancer was never good. And losing my dad was something I didn't even think would be a possibility up until then. From that day on, my mindset changed drastically, and I grew up fast. While I couldn't control the fact that my dad was sick, or the fact that his life now had an expiration date looming in the near future, I could control my actions. From that day on, I became a straight-A student. I worked hard to not add to my parent's stress or worries in any way. And I began serving my family wherever I could." —Gary shares regarding his thoughts and his mindset after learning his father was sick.
With all hands on deck while his father was receiving treatments, all of the Boomershines helped fill in the gaps in the family business where they could. Adult children with real estate licenses took over the open houses and client meetings. The younger siblings helped with basic administrative tasks. But, business began slowing down and they realized that this was because their father was unable to go to his usual networking and meeting spots to drum up new business and referrals.
"We had to find a way to get clients to come to us, since my dad couldn't go out and be at all of his usual networking and meeting spots. This is where our grandfather's old printing presses came into play. This was around the mid-80's when direct mail had just started coming up. Most people didn't understand this form of advertising, but we all put our heads in the game as a family to figure it out. And we did just that. We fired up my grandfather's printing presses and began printing direct mailers and letters to drive his business and to reach out to his clients. Every Saturday morning all of us would be in the garage working the printing presses and stuffing envelopes… And the clients started rolling in. This was my first introduction into direct mail—at the age of 14-years old—which became a huge part of my business later in my career." Gary shares about his family's resourcefulness and his first introduction to direct mail.
Over the next several years, Gary's parents taught him what it meant to have a firm foundation of faith, and how to persevere through hardship and trials. All of which helped Gary to grow and mature not only physically, but emotionally and spiritually too. Here's what Gary had to say about his parents and what he learned from them.
"My mother taught me how to be kind, loving, and honest. How to love others, no matter their differences, and to give generously. My father taught me the importance of honoring your word and doing whatever it takes to get the job done. He taught me what makes a man a good man, how a leader should lead, and how to work through my emotions when the situation gets tough. Through the next four years I learned a lot about pushing myself outside of my comfort zone, and working hard even when I didn't feel like it. All of which prepared me early on for my future."
Stepping Out Of His Comfort Zone
When Gary graduated high school, he followed the family tradition, got his real estate license, and joined Boomershine Realty part time. While he was doing this to help his family, it wasn't the dream he had for the long term and his parents both knew this. Even though medical bills had been piling up, his parents still insisted that Gary go to college using the funds that they saved for his tuition. Even after enrolling at the University of California Davis, Gary struggled with accepting the tuition money that his parents sacrificed to save for him, and often offered to get a student loan so his parents could use his college fund to pay off medical debts. During our interview, Gary shared some of the humbling words his dad shared with him the first time he brought up the subject of getting a student loan.
"My dad would say, 'Gary—you work as hard as you can, and get the best education you can get. And I'll stay alive long enough to pay for it.' And he did just that. He passed away shortly after my college graduation, but he did see me get married to my wife of now 26 years. But the way he fought for every day he had on earth with his family, solidified his place in my list of ultimate heroes and role models to look up to." Gary shares.
This was also one of the early noteable lessons that helped to instill the importance of financial freedom into Gary's personal values that he has to this day.
From Computer Engineering To A Near 180…
Gary graduated from The University of California Davis with a degree in computer engineering, where he then left the family business to become one of two students recruited to Accenture—formerly called Andersen Consulting, one of the top consulting firms in the world. While there, he gained invaluable experience working in executive level enterprise software sales and consulting, that helped him to become a great problem solver and an expert in business process automation. From Accenture, Gary went on to build four successful software startups from the ground up, where he learned a good deal about leadership and team building, as well as the importance of building and maintaining long-term strategic relationships. Relationships that have spanned multiple decades and across multiple ventures, many of which he still has to this day. While Gary has always been passionate about his career in software, it grew increasingly obvious that his work-life balance was far from where he wanted it to be. With a loving wife at home and two beautiful daughters growing up before his eyes, he knew he wanted more time to spend with his young family. And after having earned 180,000 frequent flyer miles in a single year, and feeling increasingly tired of being away from his girls, Gary knew it was time to make a change.
So He Returned To Real Estate… 
Kind of…
In 2004, Gary decided to start a business and career in real estate investing, which also led him to become the co-founder of Wealth Classes for an Inc500 Fastest Growing Company, and its flagship product—The Bankers Code. With his prior extensive experience in real estate and marketing, a degree in computer engineering from the University of California Davis, and his extensive experience in business process automation and consulting, Gary found that he had a knack for staying in front of emerging real estate trends and helping business leaders grow and flourish without sacrificing their personal lives. And this helped him decide it was time to look at doing more in the industry…
The Beginning Of Something Great.
While he was investing in real estate, Gary never veered too far from software… Gary saw his vision for RealEstateInvestor.com early on after noticing a glaring opportunity to leverage people, processes and technology to gain a leg up in the changing and competitive real estate investment marketplace. This vision led him to launch SalesTeamLive in 2005. While SalesTeamLive was initially launched as a direct mail service provider it soon grew into something more when Gary began piloting a software and services model in his own real estate investment business. Soon Gary noticed that automating simple processes with software and delegating what he calls
"$10 per hour tasks"
to outsourced teams, enabled him to save time while working smarter, not harder. This also allowed him to focus on the tasks that made the most money, like talking to sellers, making offers, closing more deals, and growing his business. All of which are part of RealEstateInvestor.com's business model today.
"Most investors limit their growth and many times fail because they lack real marketing and sales expertise along with the infrastructure to scale their business. Instead of being able to focus on closing deals and maximizing profits, they hit a wall trying to build and do everything themselves; and they simply can't do it!" —Gary shared what motivated him to build RealEstateInvestor.com.
Launching RealEstateInvestor.com
With a shared services concept that filled a major industry need, Gary's company grew from SalesTeamLive and then REIvault, into what is today called RealEstateInvestor.com. RealEstateInvestor.com has gone on to become Inc. 500's Fastest Growing Company three years in a row. Positioned and ready to start a technological revolution in the real estate market, Gary's company grew even larger over the past year by merging with automation expert of InvestorPO to offer some of the best in class automation solutions and services for real estate entrepreneurs who want to scale their businesses faster and easier than ever before. Plus, with two highly motivated visionaries leading the front, they can take the industry by storm with one common goal — to make RealEstateInvestor.com the all-solution provider of choice for real estate entrepreneurs across the nation.
Gary's Leadership style…
When it comes to building and running a business, Gary believes in building on a foundation of rock. To him this means putting God first, leading through an upside-down model where the CEO is not at the top—but at the bottom serving, and building an authentically real team who reflect the values, culture, and mission of RealEstateInvestor.com.
A personal look into Gary's life…
When Gary's not working, he can be found enjoying life with his beautiful wife of 26-years and his two daughters. He has a passion for giving back through mentorship and loves to travel with his family. He's an avid skier, rollerblade skater, and fly fisherman. When asked what his two greatest accomplishments were, his first response was helping to raise two beautiful, independent, and talented daughters. And second, being able to build an amazing business where his team is like his family, and his clients are his friends.