How To Use The Perfect Script For Talking With Motivated Sellers
How many phone calls with a seller lead does it take you to close a deal?
Do you wish you could talk to less leads and close more deals? (Or maybe talk to more leads and close even MORE deals)?  If Yes, we have a proven, dynamic motivated seller script tool for you below.
You can have the Seller Script Tool you see in the video above for free, to test out and use in your own business by requesting it below.
My name is Gary Boomershine, I'm the founder of RealEstateInvestor.com, a 2 time Inc 5000 Fastest Growing Company and we work with real estate investors around the country to help them generate motivated seller leads by using a special form of "shared services" I'll talk about a bit below.
Many real estate investors focus so much on getting a seller lead that they forget how critical those first few minutes on the phone with the seller is.
And there's nothing worse than an unprepared investor when a seller calls them…
**Ring Ring**
Seller: Hi, yeah, so I received a postcard from you in the mail about buying my house or something. How much do you want to give me?
Unprepared Investor: Oh yeah, hey hold on a second, what's your address again? Ok, um, yeah, so what can you tell me about your house? How much do you want for it?
Seller: Wait a minute, you sent me the letter, have you even seen my house, are you even serious?
Unprepared Investor: I'm very serious, I just don't have all my notes in front of me, can you tell me how much you'd like to sell it for?
Seller: Click
This is an extreme, but real example from a call that I witnessed first hand. And unfortunately this, or a version of it is all to common in real estate investing these days.
Real estate investors succeed or fail by two things:
the number of motivated seller leads we receive
and the quality of the seller leads (aka: their level of motivation)
And here's a simple truth that most investors don't want to face.
All seller leads basically suck…
Dramatic? Maybe, but consider this. Most seller leads are not chomping at the bit to sell you their house at the rock bottom price so you can make a huge profit.
And it can be difficult to filter out motivated sellers from tire-kickers.
Even worse, if a seller picked up your postcard and called you, there's a good chance they have a stack of them to go through too.
You're In The Business Of TRUST
Your career as a real estate investor depends on building relationships and getting people to trust you. You're also in the business of helping people. You help motivated sellers out of bad financial situations. Keep this in mind every time you pick up the phone to talk with sellers.
You're also in the business of weeding out unmotivated sellers, filtering out people who can't sell you their house at a price you can make a profit with and finding out what the lowest acceptable offer is.
How Do You Build Trust With Sellers Quickly?
The best way to build trust and rapport is through asking the right questions, at the right time and in the right order. It shows you know what you're doing while giving you all the information you need to know if this is a doable deal, or not.
The other key to turn a motivated seller lead into a successful deal, is to talk candidly to the seller.  If the seller is going through a difficult time in his or her life, you must build trust with the seller so that they feel comfortable handing over their beloved property.
If you feel overwhelmed at the prospect of talking with motivated sellers, practice with a script.
Although there are a lot of basic motivated seller scripts you can find and print out, one of the problems is that your next question can change based upon how they answer the previous question.
And a static printed script can make it difficult to adapt to real conversations.
The Best Motivated Seller Script Uses Intelligent & Dynamic Questions…
Over the past few years, our company has refined and perfected a seller script with over 300,000 leads.
We created a simple to use but very effective webform that allows you to ask the right questions, with the right words in the right order at the right time…
And unlike a traditional static seller script, your follow up questions will change based on how the seller answered the previous question.
This means you'll never be at a loss for what to say to a seller and will easily build rapport and trust while you qualify if they're motivated and able to do a deal with you or not.
An additionally cool feature is that you can use this intelligent webform-based seller script to quickly train a virtual assistant, inside sales or acquisiton manager to work all your inbound seller leads and only send you the most qualified, once more saving you hours of time and frustration talking to tire-kickers.
Basically it turns you into a Sales Ninja.
We use this tool internally to support over 250 real estate investors around the country in helping to generate and manager their leads.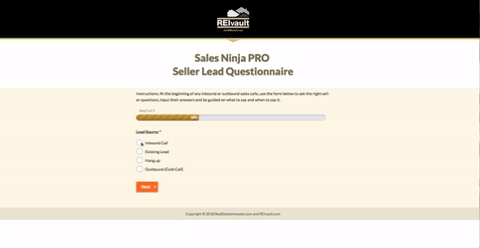 You can have this tool for free, to test out and use in your own business by requesting it below.
Get The Seller Script For Free
We just ask that if you have success with it, you send us an email and let us know about your results.
And as a bonus, we figured that once you're able to talk any seller into giving you their bottom-line price, you'll want to get your phone ringing off the hook with sellers, right?
So we're including an exclusive video walkthrough showing you behind the scenes, showing you the exact lists, marketing copy, followups, and systems we use to create and manage hundreds of thousands of motivated seller leads annually for a small group of over 250 investors. (Figured you'd like that)
Click Here To Get Access To The Sales Ninja Seller Script For Free