Meet Hannah Ritch and Dustin Hoffman from North Carolina who started their careers in real estate investing five years ago. Like many new investors, they maintained their full-time careers while building their real estate investment business on the side. On average they flipped two homes per year, which brought them a decent source of extra income. But they wanted something more than just decent.
REIgnyte Managed Package Members: Hannah Ritch and Dustin Hoffman from D.L. Hoffman Homes share their experience working with us. 
1 Year ago—The fire got lit.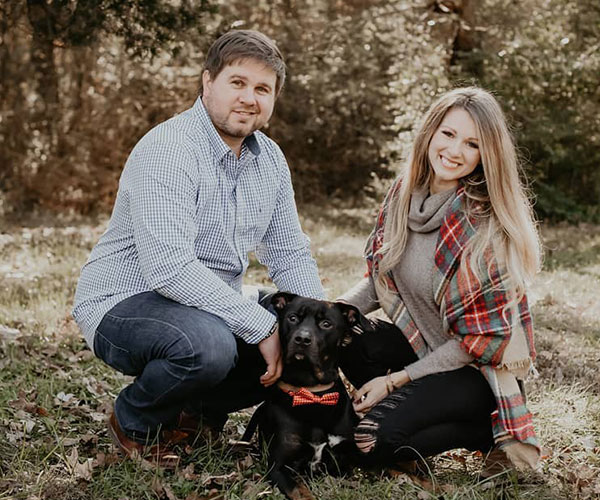 Newly engaged and dreaming of building a business together that would allow them to live the life they've always dreamed of, Hannah and Dustin decided that it was time to get serious. After flipping a few houses per year for the previous four years, they knew they needed help to get to the next level. So they joined a high-level real estate Mastermind group last year, where they learned exactly what was holding their business back— Consistency.

"Marketing is very meticulous. Before, we would focus everything on a flip and not be able to market consistently. But marketing was the lifeline to our business. If you cut that off, our business stops. So we were basically cutting ourselves off at the knees before we could even get started walking." —Hannah Ritch
7 Months ago— They found the fuel needed to make the fire grow. 
Once Hannah and Dustin realized that consistency in both marketing and follow-up was a problem for them, they knew they needed to take action to fix it. With multiple recommendations from other mastermind members, they looked into RealEstateInvestor.com's REIgnyte Managed Services Package.
Two obstacles had to be faced prior to enrolling in REIgnyte Managed Services. 
Like any investment, Hannah and Dustin had to overcome two major obstacles that could have prevented them from enrolling in the managed services package. Let's take a look at these.
Since they were only flipping two houses a year, they didn't have a lot of extra income to leverage.
They had to trust that the system and services we offer were going to work.
Dustin shares about how they overcame the money obstacle.
"If you don't have the resources to make it happen, you have to figure out how to make it happen somehow. So we sold an old truck and made just enough money to enroll in the program." —Dustin Hoffman
Hannah shares how they overcame the trust obstacle:
"We worked very simple jobs and had to reprogram our minds to not think of this as a spend, because this is an investment. A spend doesn't feel good. But if I shift this to say that this is an investment, then I'm going into this believing that I'm hiring a team that's going to be consistent." —Hannah Ritch
Since Hannah and Dustin both were surrounded by successful real estate investors in their Mastermind group, they were able to get the referral to our services through people they trusted. This gave them the peace of mind knowing that since the REIgnyte Managed Services program has worked for several other people, that it was worth the investment. They came up with a creative way to source the funding for enrollment and they overcame the trust obstacle by looking at it as an investment, not an expense.
Hannah Ritch and Dustin Hoffman enrolled in our REIgnyte managed services 7 months ago.
6 Months ago— Throwing everything they've got at the fire.
During Hannah and Dustin's first month with us, they worked through the setup and onboarding journey and expected to see qualified leads slowly trickle in. But that didn't happen. Instead, qualified leads who were vetted by our phone team and waiting for appointments were coming in left and right. Wholesale leads were also coming in, which was a type of real estate investing lead they had never worked with in the past.
This fast growth presented a new problem for them. They were getting so many leads that they couldn't keep up with them. Seeing as how they wanted to step out of their hobby and into a business, this was a good problem to have. But it also challenged them to make bold moves. Here's what Hannah had to say about this experience.
"They challenged me to quit my job. That was very intimidating at the time. But that's what enabled us to really accelerate our growth. I quit in August, and September was our biggest month! Then Dustin got to quit in October!" —Hannah Ritch
Today— Is the fire still burning? Let's look at the numbers.
Before Hannah and Dustin enrolled in REIgnyte Managed Services:
— 5 years spent in real estate investing as a hobby.
— Both Hannah and Dustin worked fulltime jobs.
— Averaged 2 deals a year with an average of $70,000 in annual profit.
— They flipped houses and had no rentals and no wholesale deals.
— Consistency in marketing was keeping them from scaling their business.
After Hannah and Dustin enrolled in REIgnyte Managed Services:
— It's been 7 months since they went all in and signed up for our managed package.
— Hannah was able to quit her job after 1 month, and Dustin quit his job after 3 months.
— They've closed 23 deals in 7 months while utilizing REIgnyte services.
— In the last quarter, they've made $120,000.
— They've closed 11 wholesale deals in the last 3 months.
— And they acquired 8 doors for rental income in the last 3 months.
— They've made more money in the last 3 months than both of their prior annual salaries combined!
"This has allowed us to step our game up infinitely!" —Dustin Hoffman

"Y'all are the lifeline of our business right now. We greatly, greatly appreciate you all." —Hannah Ritch.
Are these typical REIgnyte Managed Results?
Results can vary greatly based on the amount of effort each real estate investor is willing to put in. Unfortunately, there's no such thing as an easy button. If there were, more than 1 percent of our population would be rich today. Even with the most powerful services and tools in the industry, you still have to put in the effort to make them work for your business. Hannah worded her thoughts on this well.
 "If it doesn't work then I'm not trying hard enough. I need to try harder."—Hannah Ritch
A big challenge for Hannah and Dustin was the fact that they worked fulltime jobs. After being challenged to quit her job, Hannah was able to go all in and help lay the groundwork for Dustin being able to quit two months later.
Our final thoughts on Hannah and Dustin's experience with us:
We're extremely thrilled and excited to see how much the needle has moved since Hannah and Dustin joined RealEstateInvestor.com as members. Being able to help people like Hannah and Dustin to step out of their hobby and into their real estate business is the "why" behind every system, tool, and service we offer at RealEstateInvestor.com.
Hannah and Dustin's bold leap of faith, their willingness to take massive action, and the hard work they put into closing the qualified leads they get from our service is why they're successful. We simply provided the tools and services they needed to REIgnyte their dream and to help keep the inferno blazing.
"You've got to take action. You have to make those decisions. You could sit stagnant and have a comfortable life possibly. You can do something, or you could do nothing. That's the choice you have. When someone tells you that this is how it is, I like to take action and I like to trust people. Sometimes you get burned. But sometimes you run across a group that says we're going to make sure all of your marketing and follow up gets done, and we're only going to send you the best leads so you can just make the appointment and close deals. I trusted that y'all were going to do that, and y'all did exactly that. In trusting people, a lot of times you get burned, but this isn't one of those times. We always try to sing y'alls praises because y'all changed our life. And if we can help somebody find that same outcome, that's awesome."
—Dustin Hoffman and Hannah Ritch from D.L. Hoffman Homes
(RealEstateInvestor.com and REIgnyte Managed Services Members)