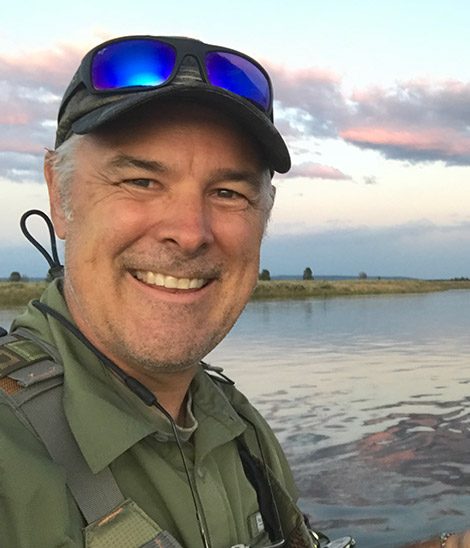 Meet Wayne Jarrett, the Chief Financial Officer and self-proclaimed spreadsheet enthusiast who's responsible for managing the financial actions for RealEstateInvestor.com. With over 20 years of experience working in high tech and financial services industries—and an MBA from the University of the Pacific's Eberhard School of Business—
"One of my favorite things about working here is our core values and our mission to make a difference in people's lives. Our leaders truly embody this and they have a spirit dedicated to growing people and giving back. In the same spirit, I actively serve on the Advisory Board for University of Pacific's Eberhard School of Business where I help give back to students through mentorship programs, mock interviews, employer events, and guest lectures."
—Wayne Jarrett, RealEstateInvestor.com CFO and Integrator
Wayne is an Integrator who provides a steady balance for our executive team.
As a natural Integrator, Wayne works seamlessly alongside our Visionaries, taking their ideas and developing the business plan and strategy that assists them in bringing those visions to life. Like most Integrators, he's often found working behind the scenes. He's a steady force within our organization who makes sure that our initiatives and business strategies are implemented and integrated seamlessly.
"The Visionary is the CEO who comes up with the great ideas, and the Integrator is the person who goes out and makes them happen. I'm good at helping people define their ideas by putting them into a blueprint that shows them how it could work."

—Wayne Jarrett, RealEstateInvestor.com CFO and Integrator
From business mentor to a friendship that has spanned multiple decades.
Wayne's first time meeting Gary Boomershine was at a couples event hosted by Andersen Consulting back in 1996. Newly hired Wayne was assigned a mentor named Gary Boomershine who he didn't get to meet until a few days later at a couples retreat sponsored by their employer. It was a bit of an unconventional first meeting when Wayne and his wife Kathy met Gary and his wife Shanna at the event. But it didn't take long for the two couples to hit it off after discovering that they lived near each other, had mutual friends in common, and enjoyed similar pastimes.
While Gary ended up leaving Anderson Consulting shortly after that event to pursue high tech sales with dot-com startups, the two couples remained close friends from then on out. For ten years both Wayne and Gary maintained a friendship where they would get together with their families for backyard barbeques, fishing, and boating on the lake. The two traded home improvement tips and real estate knowledge over the years. They often joked about working together again in the future, and in 2016 the timing lined out perfectly to make that happen.
"Our families remained good friends for well over 10 years. And during those years, both Gary and I took turns going back and forth talking about working together again. Sometimes he would say, 'you should come work for me.' Other times I would say, 'I should come work for you.' But the timing wasn't right. Not until 10 years later in 2016 when the timing lined out perfectly. Ever since, working with Gary and the RealEstateInvestor.com team has been amazing. It's a perfect culture fit for me and I couldn't imagine working anywhere else."

—Wayne Jarrett, RealEstateInvestor.com CFO and Integrator
Who's Wayne Jarrett Anyway?
Wayne was born and raised in California's Bay Area and currently lives in his home town of Walnut Creek. As a kid, Wayne was enamored with wildlife and dreamed of becoming the next Marlin Perkins or Steve Irwin. He spent a lot of time outdoors exploring nature's wonders where he learned how to capture snakes and lasso lizards. All of which, his mom forbade him from bringing into the house. And yes, he has been bit a few times. But while he had a close call with a rattle snake, he never got bit by anything venomous.
As Wayne grew up, his strength in math, analytics, and business led him to pursue his MBA. During his first year of college he met the love of his life, and has been with her ever since. In fact, Wayne and his beautiful wife Kathy recently celebrated their 30th wedding anniversary! And together, they've raised three bright and talented teenage daughters. All of whom he attributes his full head of white hair to.
During our interview, we got the chance to ask one of Wayne's daughters what her dad does after he finishes work. She told us that he likes to stare at nothing on the TV while drinking a beer. Wayne laughed and then explained that his brain is always on the move, so watching nothing on TV and vegging out for an hour or two is a luxurious way to wind down from a long day at the office. But Wayne's actual favorite pastime is spending quality time with his family and friends. He and his family play golf together, hunt, fish, snow ski, and spend most of their Summer's boating on the lake.
A future in the mountains?
Wayne's dream retirement would include waking up with a view of Lake Tahoe, grabbing a steaming cup of coffee, and going for a nice walk alongside his wife. But he might not have to wait for retirement to wake up to a mountain view since Wayne has excellent real estate investing skills and works for an amazing company that allows him to work remote from anywhere. Perhaps he'll even make this a part of his 5-year plan.