COLD CALLING AND DATA STACKING
We are pleased to bring our members REI Sales Ninja a new fully integrated "Done for You" Cold Calling Solution. Your personalized team of professional, managed, and fully-trained "outbound sales agents" (OSAs) provides better results and less headaches than doing it yourself or hiring an unskilled virtual assistant. We've built this dedicated team of trained OSAs specifically for our REI members. In fact, they're so good, it is nearly impossible to build your own team that can make as many calls with the type of accountability, professionalism and conversion performance as we can. Fully automated and integrated with our Five9 autodialer (best-in-class phone system), we are able to provide a team of expert OSAs at a faction of you hiring, training, managing and then keeping your own VA/Lead processor busy and performing.
The reality of getting lots of deals is that it takes more than just one marketing channel to generate leads. Combining our REI Cold Calling Solution with our REI Sales Ninja Phone Team follow-up, continuous follow up letters, text messages and SlyBroadcast messages will help convert those leads into deals!
IMAGINE THE BOOST IN YOUR RESULTS AND PROFITS…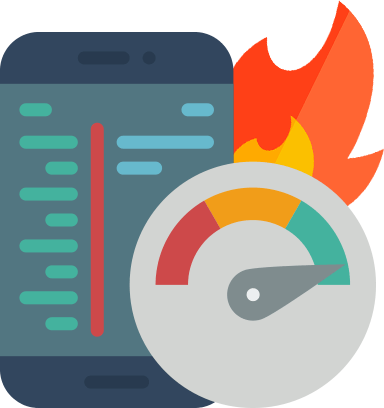 knowing that a professionally trained phone team is continuously calling, screening, qualifying, scheduling appointments, and following up on all your leads with a proven Sales Ninja script. AND… you can do this without ever having to talk to your REIVault Sales Ninja. Who they call, when they call, and what they say is all automated and managed for you which you still can control.
HERE'S A PARTIAL LIST OF WHAT THE REI COLD CALL SOLUTION CAN DO FOR YOU:
Fully Trained Sales Ninja "Cold Calling" team (Experts) calling from our list or one you provide
Data stacking phone numbers from our proprietary "Invisible List"
Performing the National Do Not Call & Litigator Scrub
Bulk Loading Numbers into REI Five9 Auto Dialer
Automated Cold Call Script and Webform Integrated into your REI CRM
Weekly & Monthly Performance Metrics and reporting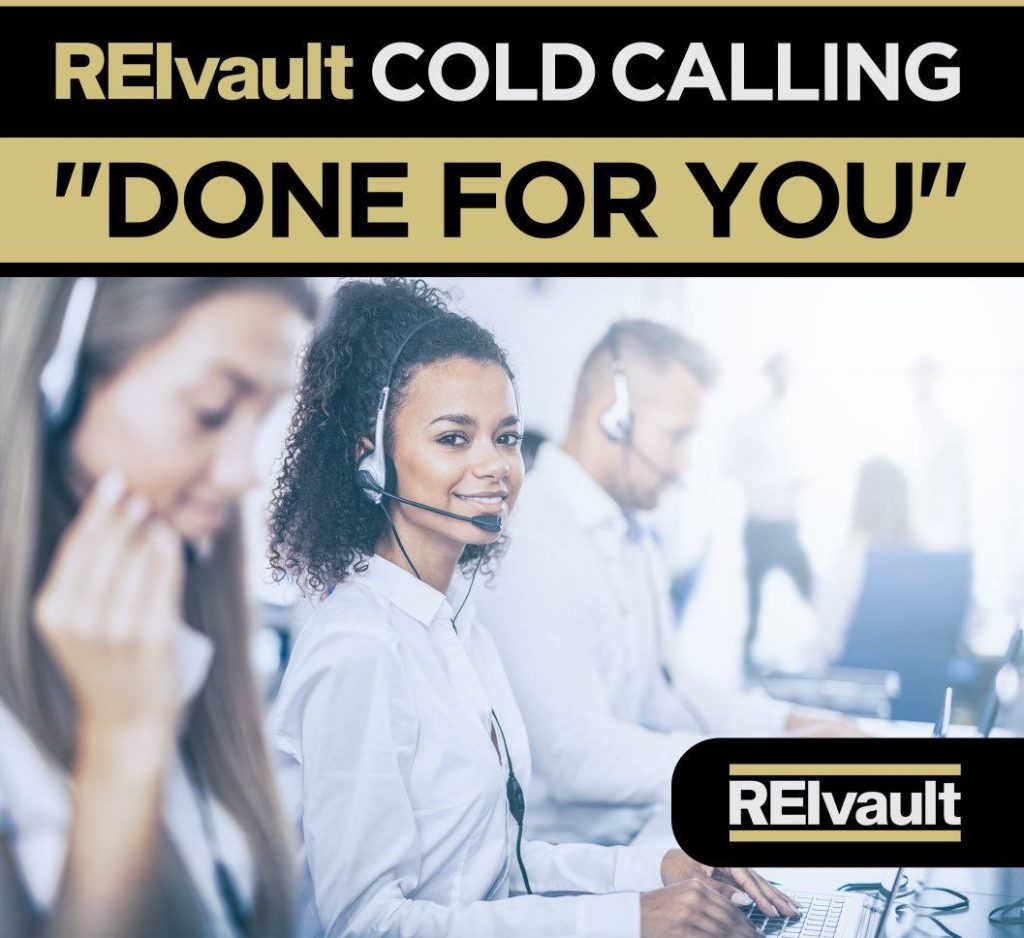 $1,495 per month for a full time Cold Call Agent*
Includes:
Full Time Agent (Capacity at ~ 15,000 Records/90 days)
Five9 AutoDialer Licensing & 287 Local Area Codes
Automated Cold Call Script and Webform Integrated into your REI CRM
List Penetration & List Refresh Recommendations
Weekly and Monthly Performance Metrics and Reporting
* No Annual Commitment
Try them out yourself for three months and then decide!
*Note:
 Special technology and phone systems were built and needed for our Sales Ninja team to integrate to our CRM, including auto-dialer technology. The Motivated Seller Script Webform and Sales Ninja 'Drip' Follow Up Campaign System are required to utilize the Phone Team.
REIVAULT DATA STACKING "DONE FOR YOU"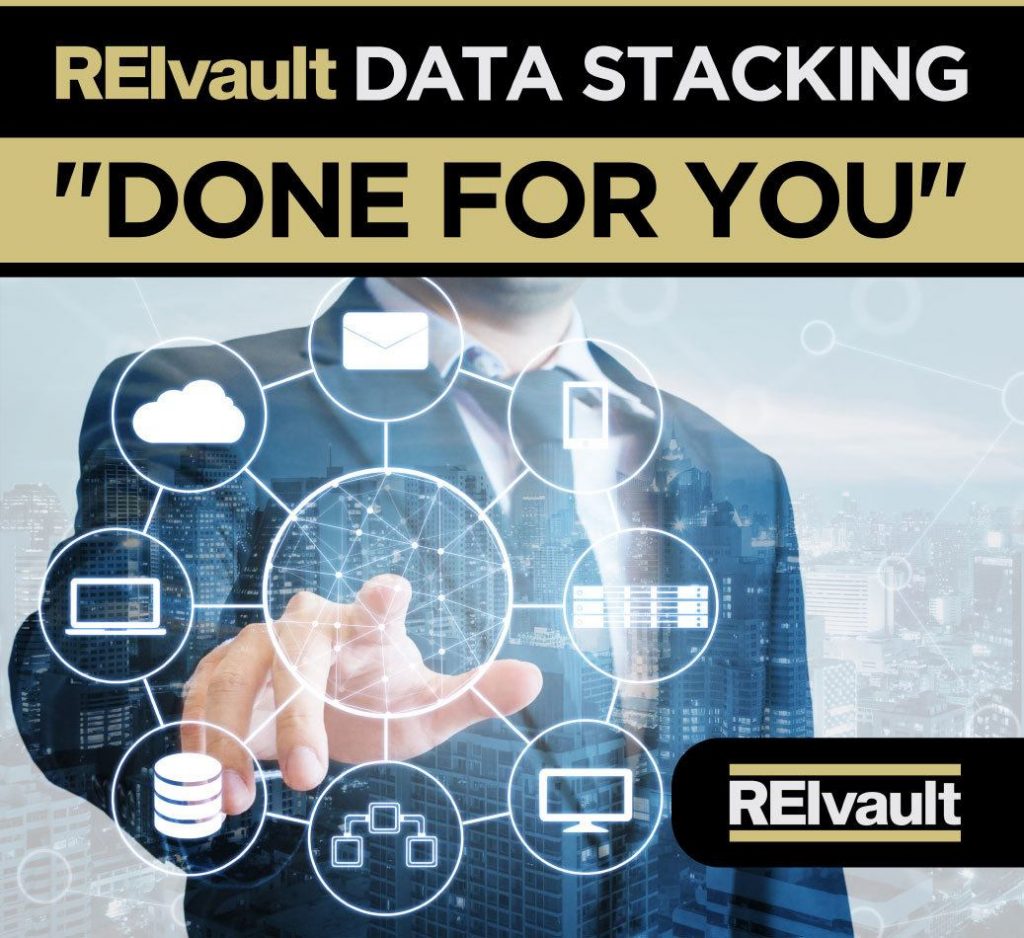 REI Data Stacking to add Phone numbers to your favorite list or the REI Invisible List
Data Stacking including the REI Invisible List
– $0.35 per record for < 15,000 Records
– $0.31 per record for > 15,000 Records
Data Stacking on your favorite list
– $0.15 per record for any number of records
Includes:
Pulling "Invisible List" and Scrubbing for duplicates
Data Stacking to add Phone Numbers
Scrubbing Records against the National Do Not Call & Litigator Registry*
Loading numbers into the Five9 AutoDialer
*Note: Requires member's individual Subscriber Account Number (SAN) and relevant "Do Not Call" (DNC) area codes via the National Do Not Call Registry.
COLD CALL BASELINE METRICS
Results are stronger the first couple times dialing through the list, and begin to drop off after that. We target 3,000 dials per week, so it will take approximately 10 weeks to dial through a list of 15,000 records two times. See Range of Metrics below:

Typically: 40 Qualified leads should result in 7 Contracts and 1-2 Deals — cold calling metrics and conversions will vary by list, location, property values and data quality.
Actual Results Will Vary due to the following:
List Type/Source: Your list vs REIvault list; Vacant vs Owner Occupied vs Probate etc
Location of the Country: Midwest & South will have better results than the Coasts ie: CA, NY, FL, etc
Value of Properties being targeted: Lower Property Values will have better results than Higher Property Values
Data Quality: Accuracy of Phone numbers for certain areas of the country and/or results from different Skip Tracing sources
SOME SPECIFIC BENEFITS USING
REI VS OTHER 3RD PARTY OR HIRED ISA
Team Dials 14 hours/day Monday – Saturday using a Five9 AutoDialer. 8:00 am to 9:00 pm for each time zone: Eastern, Central, Mountain, Pacific
All Converted Leads (Followups & Qualified) – systematically flow into Member's Podio Workspace
Our ISAs are already trained and ready to go vs having to wait weeks or longer to recruit, hire and train your ISA.
No potential resource downtime like vacations and illness. We keep full coverage so that are members don't have downtime in one of their most important functions, Sales.
We dial according to the area code of the contact
We have a robust Five9 autodialer, that is setup and ready to roll, fully integrated with our Podio CRM. With over 9 months of setup and intensive integration and refinement of robust SOP (Standard Operating Procedures), you save 100s of hours of doing this on your own or not doing it at all. We believe an autodialer is a must have system and we've done the work effort to get it right. We have significant experience managing this process.
Weekly & Monthly activity reports provided
Our Sales Ninja Phone Script is time tested and we believe 2nd to none in the industry. The right words on the phone are critical in our belief to make the right first impressions. We believe our ISAs are the best in the business and substantially below what you'd pay elsewhere plus a set of managers and quality assurance manager removing the time and effort of you doing it yourself. Most companies do not look at the extra cost they have in managing, training and motivating their own ISAs or 3rd party VAs. We believe we are unique in this important and sometimes missed function.
Our Podio CRM captures the full details of the qualification process including an attached Lead Questionnaire PDF. You can use our robust Podio CRM or simply integrate it to your own. We believe this is a unique differentiator saving potentially 100s of hours of development time to get right for scaling businesses.
Our ISAs doing cold calling are trained and capable of going above and beyond the typical 4 questions asked in most cold calling processes. For motivated sellers, our ISAs have the ability, determined during our new member turnup process, to do the full screening and qualification and appointment setting, a 6-7 minute conversation. We've found this a unique differentiator using our ISAs (Sales Ninjas). Due to the nature of our service and pricing structure, we do not offer direct phone interaction on a weekly basis. We have not seen the need and our members have wanted the lowest cost lowest overhead best service for their invested dollar.
CLICK BELOW


TO HEAR SEVERAL SALES NINJAS AND CALL TYPES
Type of Call

Sales Ninja Name

Length

Hangup to Qualified

Hangup to Qualified Lead - Sample 1

Stephanie

6.24

Hangup to Qualified Lead - Sample 2

Linda

6:10